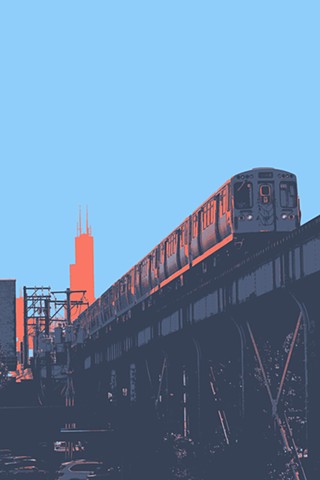 My screen prints featured here is called "OUR CITY, OUR NEIGHBORHOOD". This series is comprised of simple urban scenes that enhance some aspect of reality through a very graphic manipulation of light, color and texture.
My intent is to capture an emotional point in time within each scene whether it be nostalgic reflection, simple observation, or a happy glance into a moment's fleeting possibilities.
Screenprinting allows me to reduce the idea to its simplest form or
to be as detailed and complex as I want. The repetitive nature of printmaking gives me a chance to experiment, adjust, and sometimes encounter those happy accidents that are all part of making art.
- - - - - - - - - - - - - - - - - - - - - - -
Like me on my Facebook page
Go to my Facebook page and please click "Like" me. I would love to keep you up-to-date with what I'm working on.
www.facebook.com/pages/Ariyama-Studio/1…
- - - - - - - - - - - - - - - - - - - - - - -
Ariyama Studio is located on 1124 N. Milwaukee Ave.
If you would like to come and take a look at my work please let me know. Studio visits are by appointment only. To be invited to an open-studio party/event, please send me your email address and I will add you to my guest list. Thanks!
Retail locations
My artwork is available in following establishments. Each carries slightly different assortment of my artwork. If you are looking for specific piece, please let me know so I can guide you.
Sacred Art
This Lincoln Square shop is wall to wall affordable art--including my artwork. North Lincoln Ave, just north of Wilson.
www.sacredartstore.com
Fortunate Discoveries
In Lincoln Park at Armitage and Sheffield
fortunatediscoveries.com/
Artists Frame Service
On N. Clybourn Ave. and two other locations
www.artistsframe.com
Witt Century Modern
1236 N. Milwaukee Ave.
www.instagram.com/wcmod
Chicago Printmakers Collaborative
This is the place to go if you're interested in all kinds of original prints. They have most of my original prints in their flat file and will be more than happy to show them to you.
Open to public on Fri and Sat afternoon or by appointment.
www.chicagoprintmakers.com
- - - - - - - - - - - - - - - - - - - - - - -
Sign up to be on Ariyama Studio's email list:
Those of you on my email list will receive invitations to my shows as well as new print announcements. If you'd like to be added to this list, please go to contact page and leave me an email address.
- - - - - - - - - - - - - - - - - - - - - - -
image: milwaukee and 606